THE PROJECT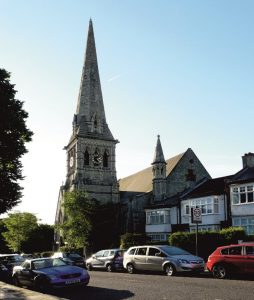 This project is a large new Community Hall at Holy Trinity Church, Tulse Hill – near Brixton in South London. It is the first straw bale church building in Europe and the largest urban straw bale community build in the UK. Straw Works have already designed and run a course for shallow car-tyre foundations, which sit on firm London clay. The Tulse Hill straw build is a very interesting and exciting project. Some wonderful videos of the build here and here.
The course will cover practical aspects of strawbale building including how to dress and customise bales, notching, loadbearing and infill techniques, compression of the wall, and much more!
Barbara Jones will be teaching on this course. Barbara is the most experienced strawbale builder in the UK. She has a world-wide reputation and works as a trainer, builder, designer, consultant and writer in the field of natural building. All our team love to teach and ensure course participants will have a wonderful learning experience.
DATE OF COURSE
19 – 23 September 2018
SITE ADDRESS
Holy Trinity Church, Trinity Rise, London, SW2 2QP
COST & BOOKING
£325 including refreshments and vegetarian lunch. Please book via PayPal below. Once we have received your payment, we'll send you a confirmation form and request for further details. Any questions, ring: 07857 890805.
TIMES
Work will begin at 9am and end at 5pm. Please arrive no later than 8.45am.
FOOD
A vegetarian lunch and refreshments will be provided.
ACCOMMODATION
Please organise your own accommodation – here are some suggestions. There may be space for 2 camper vans by prior arrangement but these must be self-sufficient as there are no cooking or washing facilities.
Airbnb: There are several options within 10 minutes' walk costing £20-30 per night
Hotels: Booking.com, Trivago etc have a range of hotels on their sites
TRAVEL
Rail: Tulse Hill Overground Station is a 10-minute walk. Take Norwood Rd exit, turn right at end of Station Rd, walk down to main lights and cross over to Tulse Hill Hotel (pub). Walk Up Tulse Hill, and at the top, turn right. You will see the church.
Tube: Get the tube to Brixton (Victoria Line), turn left out of the station and get the 2, 432 or 415 to "Upper Tulse Hill" stop. Turn left out of the bus and first right. You will see the church.
Bus: 2, 432 or 415 from Brixton; 68 from Euston / Waterloo to bottom of Trinity Rise (Brockwell Park Gardens stop).
By road: Parking on street or in church carpark if space.
PLEASE BRING WITH YOU
For site:
• Stout work boots, steel toe-caps if possible;
• Work clothes
• Hat and sun cream
• Work gloves
• A pair of wrap round safety glasses
• Tape measure (important)
• Paper and pencil
• Water bottle
PAYMENT: Please pay by clicking Buy Now below. The cost is £325 per person.  Any questions, email allan@schoolofnaturalbuilding.co.uk