5 day course: 7 to 11 August 2019
Whilst participating in this hands-on, practical course you will understand: Why we use lime plaster, how to make the mixture, how to apply it to strawbale walls and you'll learn just how beautiful it is! Lime plastering is great fun. It's also a very effective covering for strawbale walls, providing a beautiful, warm, cosy environment. Lime plaster helps to control moisture in a building and enables walls to breathe. It is also beneficial to the health of those living there and has great acoustic benefits.
This is a 1.5 storey strawbale home in the Scottish highlands. With beautiful views into Glen Affric's wild mountains, it's a bonny spot!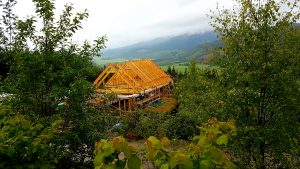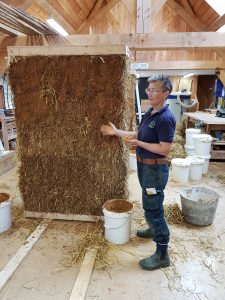 Rae Parkinson will be teaching on this course. With many years of experience and an outstanding reputation in the field of natural building, Rae ensures course participants have a fun, value packed time.
Times
We will work from 8.45 until 17.00 each day. It is very important that everyone arrives on time, as a major part of the way we work is to begin and end each day together as a group.  You will need to arrive by 8.45 am at the latest.
Costs
£325.00
Food
A vegetarian lunch, hot drinks and refreshments are included as part of the course fee.
Accommodation
Please request details of local accommodation available.
Bookings
Email allan@schoolofnaturalbuilding.co.uk or pay direct using PayPal below: